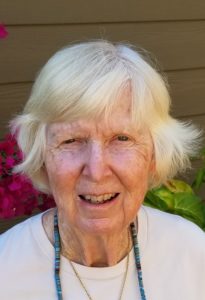 Member Spotlight
Anne Barr
September 2019
by Robin McKinley

When you walk up to Anne Barr's house, you automatically realize that an artistic "doer" lives here. Despite the 100° September heat, roses gleefully bloom, green vigorous garden areas nestle the house, and neat paths lead you up to the door. A whimsical cart overflows with blooms.

Anne confesses that she even considered art as a profession, but realized she is more of a doer than a visionary. Instead she got her degree in mechanical engineering. Now, Anne expresses her artistic side in her gardening. She is a Master Gardener from Milam County. She also got her Master Naturalist, but she couldn't do both so she focused on the Master Gardner program. As a part of that she went on Master Gardener cruises to Alaska and Paris.

With her degree in ME, and her husband, Gary's, degree in electrical engineering, and their gardening and artistic abilities to boot, they have created an oasis from the bare ground in just one short year.

Anne and Gary moved to Taylor to downsize and to be closer to Austin but not in it. Before Taylor, they lived for 12 years between Thorndale and Rockdale, near the community of Salty. They had a spectacular house and garden there.

Anne was born and raised in Austin. She came by her artistic and gardening skills honestly, inheriting them from her homemaker mother. Her mother always used to say that Anne would be a lawyer because she never stopped asking questions. Her mother missed the mark on the field, but she was right that Anne would always be asking questions – just as an engineer instead of a lawyer. Her engineering proclivities came from her father who was a professor of Civil Engineering at the University of Texas (UT). She had two sisters, nine and ten years older than her, who majored in Art and Sociology at UT.

Anne got married to her first husband right out of high school and she got pregnant 4 months later. Being in the military, her husband was shipped out to Japan soon after and her daughter was born while he was gone. Anne took Deborah everywhere with her and shared her with everyone. Luckily, that meant that Deborah wasn't dismayed when a man she didn't recognize arrived home from Japan. Deborah grew up to be a bookkeeper, and she lives in Tyler where now she works for a mobility company (they provide various means to assist people who are mobility challenged from wheelchair to tub to vans.). Deborah's husband passed away last Thanksgiving.

Her second daughter is Marcy who lives in Cedar Park. She also married right out of high school and has 4 children from two marriages. She also followed in her mother's footsteps by earning two certificates in bioengineering and now works for a small company that does cultures for stem cell research.

Her third daughter, Beth, is a software "wienie", according to Anne. Beth is a technical manager for a small company that does tech support for POS (point of sale) software. She has 3 children and also lives in Cedar Park.

Family is an important part of Anne and Gary's lives. Anne has 3 daughters, 8 grandchildren, 4 greats, and Gary has 4 children, 6 granddaughters and 9 greats.

After marrying her first husband, Anne went to Nixon-Clay business school but didn't continue when she discovered she was pregnant, and he was shipped out to Japan. After he returned home but still was in the service, she completed 2 years of college in engineering at UT, and math, including one year toward teaching.

When her husband left the military, Anne went back to working full-time to support him while he went to school. She got a position at Southwestern Bell Telephone doing drafting. She had printed her application, and when she went to interview, they asked her if she wanted to do drafting. She agreed and that began many years work doing drafting for various companies.

She worked for Tracor as a draftsman. Tracor was a consulting company specializing in government contracts for countermeasures to protect aircraft from enemy missiles.

Then when the job market got tight, she left the company to free up a position for others who needed the job worse than she did, and went to work for the Chair of Mechanical Engineering at the University of Texas for 2-3 years. During this time, she sometimes worked part-time, sometimes half-time, and sometimes full-time. Little by little she also continued working on her degree in Mechanical Engineering. It took Anne 20 years to complete her degree. She laughs and says, "I was a slow learner." But somehow you don't get the idea that is really true. Between supporting her family and raising her girls, study obviously had to take second and third place.

After she graduated, she went back to work for Tracor. By this time, Gary was also working at Tracor, and he had a strict "no dating colleagues at work" policy. Gary had gotten divorced two years earlier, and it was a challenging divorce. Anne offered for him to give her a call if he needed to talk. One evening, he came over to talk and even though they didn't date, a relationship was beginning.

Sometime later, Anne got an offer to go to work for OIME (Oil Industry Manufacturing Engineering), which was part of Parker Drilling out of Midland. She left Tracor, and then she and Gary were married.

After a while, her boss from Tracor kept calling her and wanting her to come back, so eventually she did. At Tracor she was on the presentation design team, and often had to speak to large audiences about the projects they were developing. Because the technologies were so new, not many people knew much about them. To keep the jitters at bay, her boss would remind her that "you know more about this than anyone else in this room does."

Anne worked for several other companies, including teaching at ACC and UT, and at Wayne Dresser working on a project designing the at-the-time emerging "pay at the pump". Anne and Gary started a consulting firm combining their skills to serve many clients. Anne also worked at Applied Materials which she really loved. "It was a place where you could feel the excitement," Anne said. The company built the wafers that were needed to build computer chips. Anne got to travel to Japan with this position. Working abroad was challenging but fun.

Anne loved best that wherever she was employed the work was never the same: all different kinds of jobs, all different products. She had travel opportunities to meet lots of neat people and do exciting work.

For vacations, she and Gary also loved to travel, including to England, Scotland, Wales, Hawaii, Tahiti, Paris, Normandy, Japan, Bahamas, and Mexico. The most fun she ever had was vacations to Hawaii. She loves the seashore and the mountains and the people and the food especially fresh fish. She caught a Mahi once, and though it was a lot of work bringing it in, she finally did it and nothing ever tasted better.

Anne and Gary joined Taylor First United Methodist Church this spring. Anne was raised Methodist, and she was baptized at Hyde Park United Methodist church in Austin.

She is impressed with the friendliness of Taylor FUMC. She was greeted most warmly by everybody she says. She enjoys Sela's sermons and likes that Sela practices what she preaches. Anne and Gary regularly attend Beer and Bible. They also enjoyed helping out at Midnight Basketball and at the Garage sale.

Her favorite hymn depends on her mood but she is fond of "When the Roll Is Called Up Yonder, I'll Be There." One day recently, she woke up with the doxology going through her head. What a great way to wake up!

Be sure to trade stories with Anne and welcome her to our Taylor flock!