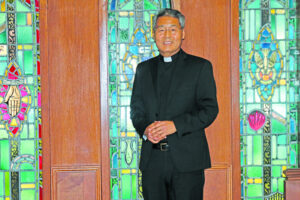 My new friend(s) in Taylor:
I would like to take a moment to introduce myself and my family to you.
Jeeyoung and I were born in South Korea and attended schools and colleges in Korea before coming to the United States in 1989.
We first located in Evanston, Illinois, where I attended Garrett Seminary, graduating in 1993. I then pursued a doctoral degree at Northwestern University in Evanston, Illinois where, for three years, I attempted to understand God and people better from brain science research. I completed my degree at United Seminary in Dayton, Ohio.
I served two churches in Nebraska from July of 2000 to June of 2010,
and was able to grow each church by more than 200 new people within five year spans.
At the end of June of 2010, Jeeyoung, our youngest child Simon, and I left Nebraska and moved to Little River, Texas to be closer to daughter Kristen at Southern Methodist University and son Peter at Rice University.
I was able to add about 156 new people to Little River UMC during my stay of six years. We LOVED the people there, and none of us wanted to leave Little River, but family was drawing us to Houston.
Our daughter, Kristen, started her career at Houston Methodist Hospital as a surgery nurse, got married, and was about to start her own family with our grandson, Eli.
At the same time, our son, Peter, started his medical education at McGovern Medical School in the Texas Medical Center right after graduating from Rice University. We thought we needed to move to Houston to support both Kristen's family and Peter.
While in Houston, I served Aldersgate UMC, about a 40 minute drive from the Texas Medical Center area where my family and I resided.
The Texas Annual Conference awarded me the 2019 One Matters Award for adding 82 new adult regular attenders and growing the youth group from 4 to 15 regular attenders from August of 2018 to November of 2019.
Aldersgate United Methodist Church was actively involved in the healing of the community after Santa Fe school shooting. After dealing with the aftermath of the school shooting and growing the church significantly, I experienced some burn out. I needed a time of rest. Jeeyoung and I moved to Meridian where I recharged myself and listened to God's voice about what my next ministry should be.
Other ministers often ask me about my success in growing churches.
My answer is very uncomplicated: "If you love people, they are going to love you back four-fold." Life is about relationships and so I focus my time and energy on fostering relationships.
Jeeyoung and I married in 1987 in South Korea. She attended and has a master's degree from the American Conservatory of Music in Chicago, Illinois. She then pursued a doctoral degree in her major study of piano performance at the American Conservatory of Music in Chicago.
Jeeyoung was the department pianist of Music and Performing Arts at University of Nebraska at Kearney from 2006 to 2010. She was also department pianist of Music and Performing Arts at Temple College, Texas.
She played classical music as a concert pianist for many functions including college musicals, seasonal concerts, and pop concerts.
Our daughter, Kristen presently works as a Nurse Practitioner at the Neurosurgery Department of Memorial Hermann Hospital, and her husband Joel as a nursing department manager of Kindred Hospital at the Texas Medical Center in Houston.
Kristen is an accomplished flutist, and she and Joel have two children Eli (6 years old) and London (5 years old).
Our son, Peter, a family medicine physician, will work at a clinic of Baylor College of Medicine in Houston starting in October. His fiancée, Stephanie, will be doing Anesthesiologist fellowship at Texas Children's Hospital for one year.
Our youngest child, Simon is a junior at Washington University in St. Louis, majoring in finance and accounting. He is doing his Summer Internship with Abbott in Santa Clara CA.
Before I initiate any kind of ministry or program at Taylor First, I would like to look every person of our church in the eye! I am planning to visit every person of our church, with the goal of understanding them and their connections, their needs from the church, and any specific prayer requests.
Pastor Yohan Baek