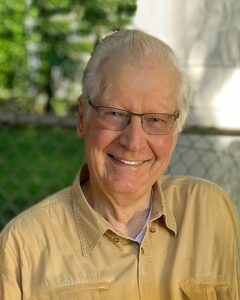 Leland Moore Stevens
☦︎
Memorial Worship Service and Thanksgiving Celebration
Saturday, April 23, 2022
2:00 P.M.
First United Methodist Church
907 West Lake Drive
Taylor, Texas 76574
<><
Committal Service
Immediately following the Memorial Service
Taylor City Cemetery
1101 E. 4th Street
Taylor, Texas 76574
♰✝︎✠
Reception
Following the Committal Service
First United Methodist Church
907 West Lake Drive
Taylor, Texas 76574
512-352-2593
For those unable to attend in person, the service will be available to live stream on our Facebook page (https://www.facebook.com/fumctaylor) and YouTube channel (https://www.youtube.com/c/FirstUnitedMethodistChurchTaylorTexas). Thank you

Leland Moore Stevens, 90, of Taylor, Texas, joined his beloved Jean and his Heavenly Father early on Monday, January 10, 2022. Only Jean called this 6-foot-2 second son "my favorite boyfriend" for 68 years. The rest of the family affectionately called him Dad, Leland, Papa, Grand-Papa, Great-Grampa, "Unclee" or Uncle Leland. Filled with integrity, he provided his children with a good foundation—he was upright, trustworthy, fair, and compassionate. Taylor Daily Press aptly titled a 2009 front page article about him "Diehard fan," saying "Leland Stevens attends more youth sporting events than the average Taylor citizen, simply because he's interested in seeing the children grow into responsible, contributing citizens." Indeed, he was a responsible, contributing citizen. Since his death of Covid-19 pneumonia, the family has heard from many who called him friend, the best accountant, my best supervisor, "my go-to guy on plats," or a great volunteer "who always had a kind word to say." The driver of a white truck who honks the rhythm of "hullaballoo caneck caneck" in front of the Stevens' home happily reminds the family of the Spirit of Aggieland, which Leland cherished.
Community service, family, nature, fairness, truth, worship, accessibility to positive childhood experiences and public college education were important to Leland. He relied on quiet prayer and appreciated the dedication of accompanists, pastors, music directors, and teachers. He conscientiously fulfilled his duties, roles, and responsibilities. He was dependable, smart and had superb organizational skills. He concisely chose his words—whether spoken extemporaneously, prepared for services at First United Methodist Church of Taylor, for meetings of the City of Taylor's Planning and Zoning Board, or written as humorous lyrics to sing at Taylor Lions Club's weekly meetings. He enjoyed clever wit but not cruel humor. He critically looked at details of important matters, elevating crucial facts, dismissing irrelevance, and sharing the reasons for each. Sometimes he spoke tersely and showed fierce independence, but simple kindnesses, beautiful music, stories of compassion, and Aggie Muster moved him to tears.
Leland was born on 20 December 1931, in Fort Worth, Texas, to Wesley Stevens and Leila Moore Stevens who nurtured his interests in horses, cattle, the outdoors, reading, history, athletics and music. They encouraged him to learn about God through involvement in the Methodist church. He graduated in 1949 from Stephen F. Austin High School in Bryan. Leland sang bass in its award-winning a capella choir and learned to play trumpet and piano. He also played baseball, football and basketball and ran track. At taverns just beyond the city limits, he and his friends enjoyed social dancing to Polish polkas.
Growing up in Texas, Leland and his brother, Wesley MacClelland Stevens, fondly recalled accompanying their father, a federal employee, on some summertime business trips to verify whether recipients of federal subsidies—issued for the purpose of building rainwater retention reservoirs in Texas—used them to complete such jobs. The two young men saw first-hand that some of the reservoirs did not even exist and learned that some elected officials and contractors conspired and embezzled. Sadly, some resulting lawsuits were never brought to trial because of changes in political leadership. Once Leland became of age, he voted.
This student-athlete attended Wharton County Junior College for one year where he played linebacker and Phi Theta Kappa elected him to its honor society. Then the Agricultural and Mechanical College of Texas (now Texas A&M University) offered Leland an athletic scholarship. He transferred there but declined the scholarship. In the Corps of Cadets, he was in Eighth Regiment the first year, a technical sergeant in Coast Artillery "A" Company as a junior, and a lieutenant in First Regiment as a senior.
A mutual connection introduced Leland to Lois Jean Clark at an Aggie yell practice in 1951, and his brother married the two on 29 August 1953 at Presbyterian Church in WaKeeney, Kansas. Earlier that summer, he had written a box-load of letters to his fiancée and was named "Best Cadet in E Battery" at ROTC camp at Fort Bliss, El Paso. In 1954 he received a bachelor's degree in business administration, became a Certified Public Accountant after passing all four parts of the CPA exam in his first and only sitting, and was appointed Reserve Commissioned Officer as second lieutenant in the U.S. Army. The Army promoted Leland to first lieutenant (1955 to 1957) in the 519th AAA Battalion while stationed at Hanford Nuclear Reservation, Richland, Washington.
To the marriage came four children: Beth, Bill, Jeanette, and Lee. Leland was a wonderful husband, father, grandfather, and great-grandfather whose success in the accounting profession provided the family with comfortable homes in welcoming communities and, after the children were adults, a cattle farm in Marion, Texas.
His accounting career began at the Houston office of Price Waterhouse, the public accounting firm where he worked for a dozen years in positions of increasing responsibility in its audit division. Leland transitioned into controller roles with stockholder-owned companies and privately held firms, including Digital Resources, Western Geophysical, and Digicon where he was financial vice president and treasurer, all in Houston. He worked with William T. Burton Industries in Sulphur, Louisiana, for four years where he also served as president of Sulphur Rotary Club. He returned to Texas to work at Groves Alexander, a branch of the King Ranch family in San Antonio. Eventually he sold the farm and resigned from Groves Alexander to acquire a public accounting firm—first called Stevens & Company, CPAs, then Leland M. Stevens, CPA—in Taylor, where he and Jean made their home for 35 years. The firm did tax preparation, planning, audits, business and financial consulting, and accounting and bookkeeping. Ever grateful for clients and friends alike, he sold the business in 2017.
In retirement, Leland did his best to "keep up with Jean!" and still devoted time and knowledge of accounting toward betterment of the community. His esteemed pastor, Reverend Sela Finau, said Leland served his church in every leadership role and on every committee which needed him over the decades, including as chairman of FUMC Trustees. The church awarded Leland and Jean the Midge Uzzel Mission Award in 2018 "for service to church and community." Named Lion of the Year in 1991 and 2013, he enjoyed 35 years with the Taylor Lions Club in capacities ranging from song leader to president. He was fond of Texas Lions Camp and served as treasurer of Texas Lions Eye Bank. He served for 27 years on the City of Taylor's Planning and Zoning Board (many of them as vice-chairman) and an earlier iteration of it. He was a member of Greater Taylor Chamber of Commerce board for years. He also served as treasurer of Temple College at Taylor Foundation and was glad to see students' success at Legacy Early College High School and at Taylor High School.
His passion for watching Taylor High School sports (football, basketball, volleyball and especially baseball) and fondness of singing in church choir and attending Bible study and Sunday school never waned, even when he could no longer attend. Aggie football, Houston Astros, and women's collegiate volleyball and softball were also favorites.
An outdoorsman at heart, Leland enjoyed hunting, fishing, camping, water-skiing, boating, flying, reading, visiting relatives, attending Albuquerque's Balloon Festival, and storytelling. Listeners could feel the anticipation and excitement, for example, from his childhood visits to St. Mary's Creek in Tarrant County where he and a cousin raced their grandmother's wheelchairs from her farmhouse parlor down the wooden ramps out front and back. Like Jean, he took pleasure in family reunions, Christmas caroling, visual art, folk music, cultural festivals, and musical performances. He recently affirmed to the children that it was Jean who had fully paid for her treasured grand piano from her earnings from teaching piano.
Leland's beloved wife, parents, parents-in-law, William Clarence Clark and Myrtle Aileen Dwyer Clark, siblings-in-law, Robert H. and B. Beth Clark Galloway, and nephew, Michael J. Galloway preceded him in death.
The family will dearly miss Leland and his welcoming handshake or hug, twinkling blue eyes, eager smile, "Be safe" farewells, and goodbye waves while standing outside the home with Jean until out of sight.
He is survived by his children, Beth Ann Stevens Locke, of New Mexico, William Wesley Stevens, Jeanette Stevens Zey and her husband, Richard Bennett Zey, Leland Clark Stevens and his wife, Diana Reynolds Stevens, all of Texas; grandchildren, Leila Aileen Locke, Sarah Beth Locke Castor and her husband, Aaron Lynn Castor, Airth Rebecca Locke McCourt and her husband, Michael Cole McCourt, Leland Robert Locke and his wife, Veronica Castillo, Kathryn Jean Hylander and her husband, Spencer Allen Hylander, Justus Clark Stevens and Colton Reynolds Stevens; great–grandchildren, Michael Craig Davis, William Lynn Castor, Leland Wayne Castor, Benjamin Clark Castor, Lynex Orion Locke, Leland Robert Locke, Jr., Charli Jean Locke, Kinsley Jean Hylander, Kase Allen Hylander and Duke Bennett Hylander; brother Wesley with his wife, Virginia Winter Stevens, of Winnipeg; and nieces, nephews, and cousins.
Leland told us to send him out on Peter Lutkin's "The Lord Bless You and Keep You," the closing song at his high school choir's concerts. Leland's memorial service will be held on Saturday, April 23, at 2:00 p.m. at First United Methodist Church (www.fumcTaylor.org), 907 W. Lake Drive, Taylor, Texas. A public burial service will immediately follow at City of Taylor Cemetery, 1104 East 4th Street, with a church reception afterward. For those desiring, memorials may be sent to the church, Texas Lions Camp in Kerrville, or your favorite charity.