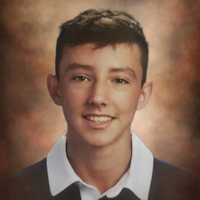 Tyler Dennis Cobb
January 14, 2005 – May 16, 2020
Here are the service arrangements for Tyler:
Visitation
Thursday, May 21, 2020
5:00 P.M. – 7:00 P.M.
Providence Funeral Home
807 Carlos Parker Blvd., NW, Taylor, Texas 76574
Obituary https://www.taylorprovidencefuneralhome.com/obituary/tyler-cobb
Memorial Service
Saturday, May 23, 2020
11:00 A.M.
Taylor High School Football Field
355 FM 973, Taylor, Texas 76574
Memorial Tree Ceremony
Saturday, May 23, 2020
Immediately following the Memorial Service
First United Methodist Church
907 West Lake Drive, Taylor, Texas 76574
www.fumctaylor.org
Finger food and water will be available outside at First United Methodist Church after the tree ceremony. Please contact Marsha Beckermann or the church office for more information.
A memorial fund in the name of Tyler Cobb has been setup at City National Bank.
Make checks payable to Tyler Cobb Memorial Fund and either drop-off or send to P.O. Box 1099, Taylor, Texas 76574.
As we grieve individually and collectively as a family and community, be reminded that God is here and grieves with us. "The Lord heals the brokenhearted, and binds up their wounds. Great is our Lord, and abundant in power, whose understanding is beyond measure." Psalm 147:3, 5