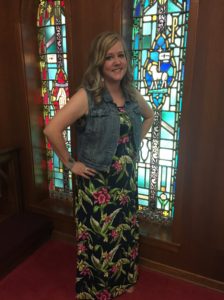 MDO Teacher Spotlight
Stephanie Martinka
This week we feature our incredibly talented, creative, and fun Chapel, Worship, and Music Leader, Mrs. Stephanie Martinka.
Stephanie always plans very visual and hands-on chapel lessons that make our weekly Bible lessons easy to understand and memorable for our students. She also picks the best songs to sing and dance to during our weekly music time where we
praise and worship our Lord Jesus through song. Stephanie has 13 years of childcare experience as both an MDO teacher and a nanny. She is a 2005 graduate of Belton High School and went on to further her education at Mary Hardin-Baylor. She is proud to be a farmer's wife and she and her husband, Matt have been married for seven years. They are members of Holy Trinity Catholic Church in Corn Hill and make their home in Bartlett with their two boys, ages 5 and 2. Thank you, Stephanie, for sharing your beautiful voice and joyful personality with us at FUMC! Please check out our album on this page "Chapel Time" for just a few examples of the fun times we have with Mrs. Stephanie!