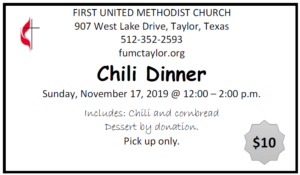 Chili Dinner, November 17, 2019 from 12:00-2:00 p.m. Tickets are $10 each. There will be limited tickets available at the door for $12 the day of the event.
Each family has been assigned 10 tickets to sell. They are located in the Narthex and labeled for you to pick-up.
Sales proceeds are due Sunday, November 17, 2019.