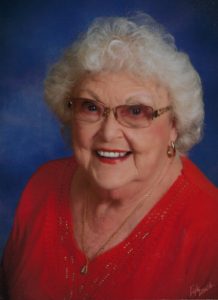 Member Spotlight
Mary Pearl Sutton
April 2018
Mary Pearl Sutton was born in Hutto. Her grandparents migrated from Sweden, and her grandfather helped build the Methodist Church in Hutto. Mary Pearl was baptized in this church, which is also the very church that was moved recently to a new location in Hutto. Her grandfather owned the property that now houses the Home Depot in Hutto.

Mary Pearl had seen hard times in her life. Her mother divorced when she was twelve and they experienced some lean times. She doesn't dwell on those hard times but rather with her quick laugh and keen sense of humor, she looks at life more philosophically and focuses on the positive things in life. She prefers to use her fantastic memory to remember many stories about Taylor and the many years she has lived here. She also uses it to remember all the accomplishments of her daughter and her granddaughters and her great grandchildren, but more about them later.

When Mary Pearl was 12, she and her mother moved to Taylor and Mary Pearl began attending school here. She went through the rest of her school years in Taylor. Here's a fun fact from her school years: when she was a senior in high school, she took American History from T. H. Johnson who was then the football coach at Taylor High School. The elementary school in Taylor is named after him. She graduated from Taylor High School.

Mary Pearl started working immediately after high school since she had to pay for all her living expenses, including her dry cleaning. She even paid her share for purchases her mother made for the house such as a new lamp. She worked at a record shop for eight months, and then was recruited to work for Lone Star Gas as a bookkeeper. The woman she replaced was leaving because she was expecting. Mary Pearl and the other employees pitched in to give her a bassinet. Later, the baby who slept in that bassinet became Mary Pearl's son-in-law! Mary Pearl laughs that at the time she never knew that in the future she would have grandchildren who would also sleep in that bassinet.

When she had first moved to Taylor, Mary Pearl began attending church at Taylor First United Methodist Church which was then located at 4th St. and Talbot. She went all through her school years in Sunday School and when she decided to marry in 1946, of course, she chose the old church for her wedding.

Although Mary Pearl had arranged for the ceremony months in advance, the pastor didn't write the date onto the calendar, so he forgot about it and went out of town. Mary Pearl didn't find out she was missing a preacher until the rehearsal dinner. Her groom called his mother who arranged for the pastor of Tenth Street United Methodist, Reverend Gill, to perform the ceremony. He said he was more used to marrying people in front of a Model T Ford than in a church.

Needless to say, this left a negative impression on the newly married Suttons. They transferred their membership to Tenth Street UMC and worshipped there for many years. However, when their daughter Susan was about 12, she was in a Sunday School class of all boys and the boys teased her so relentlessly that the Suttons decided to return to First UMC. By this time, First UMC had moved to its new location on Lake Street. Susan played volleyball during her school years at First UMC. Mary Pearl has been a member of First UMC ever since. Her favorite hymn is How Great Thou Art, and her second favorite is Amazing Grace.

Mary Pearl has had many fun times in her life. She fondly remembers a trip her family took in 1964. She and her husband drove to California with Susan, and Shelly, a friend of Susan's. Shelly's family struggled to make ends meet, so this was a great treat for her as well as fun for Susan. They went to the Disneyland and the Lion's convention. The girls had a marvelous time at the park and enjoyed a lot of freedom at the convention interacting with other kids.

In 1968, Mary Pearl and her best friend, Peggy, opened a dress shop on Main Street in Taylor selling both misses and juniors dresses, blouses, slacks and lingerie. They operated the store in the location where the Nest is currently housed. Mary Pearl's mother had worked in a dress shop so they had some advice on their venture. With Mary Pearl's Susan and Peggy's three children in school, the two entrepreneurs had a blast operating the shop. They used innovative advertising techniques, such as using Peggy's connection with the radio station to get promotions, and also having Susan wear their fashionable dresses and dance in the window of the store. Susan loved the dancing and also working in the shop which led her to her present career of department store buyer.

The shop allowed Mary Pearl to meet people and visit with them, which she loved. As a good Swede, she had coffee ready to offer customers. They went to Dallas to market to procure their inventory and had advice and help from their friend, Dot. There, Mary Pearl put to use her good shopping talents, and her uncanny ability to put different outfits together. Mary Pearl smiles, "Many times, people think I have on something new, but I've only put my clothes together in a new way."

Mary Pearl was married for 48 years and then divorced. She has one daughter, two granddaughters, and five great grandchildren – three girls and two boys. It probably cannot be overstated how important family is to Mary Pearl and it is hard to get her to talk about anything else. She is very proud of her daughter's and her granddaughters' accomplishments, as well as their husbands'.

Her daughter, Susan, while in high school, sang in a choral group called the Coryells. They won first place three years in a row in the school talent competition. The group also performed at many conventions and meetings. Mary Pearl proudly shows the group's write up and picture that was printed in the power company's newsletter.

Susan attended the University of Texas and got a degree in Fashion Merchandising. She lives in Fort Worth and is a buyer for the Texas-based, international chain: Dillard's Department Store. Susan and her husband have two daughters: Reagan and Raeley.

Reagan with to Texas Tech and then Oklahoma State for 3 years. She got a masters and a PhD in Child Psychology. She landed an internship at John Hopkins in Baltimore, Maryland. She and her husband now live in Fort Worth with their two daughters (Mary Pearl's great granddaughters), Cara, 5, and Einesley, 6 months.

Raeley went to Texas A&M. She and her husband both went to medical school at North Texas State, and then to Wake Forest, North Carolina for internships. Then Raeley received a fellowship at Texas Children's' Hospital in pediatric intensive care. Both she and her husband work at Dallas Children's' Hospital now. They have a daughter, Adelynn, and two boys, Hunter, 2, and Nolan, 3 months.

With all her own accomplishments, Mary Pearl is most proud of her family's accomplishments. She brings much sunshine to her church family. Be sure to give Mary Pearl a hug and tell her how much you appreciate her being a member of our church family!