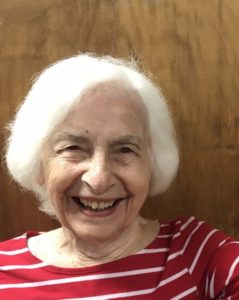 Member Spotlight
Jean Stevens
August 27, 2017

Lois Jean Clark Stevens was born in Beverly, Kansas during the Great Depression. Her family teases her that when she was born it created a deep depression all over the world. The family moved to WaKeeney, Kansas when Jean was five years old. Her father was an International Harvester dealer, and her mother was a housewife and active in the church. She has an older sister, Beth Galloway.
Jean got her degree from Texas State College for Women, now Texas Women's University. While at the university, Jean heard a choir that so moving that she changed her major from education to music education and she's been involved with music ever since. She didn't major in music because a recital was required and she didn't want to do that. She did accompany many recitals of other music students. After graduating, she taught music in public schools for 3 years.
While she was living in Brian and teaching music in the public schools, Jean went with a friend to a Texas A&M yell practice. There she met a handsome young man named Leland. After that, she only had one date with one other person. The rest were with Leland. She and Leland married in August 29, 1953.
They have four children. Beth Ann, William Wesley (Bill), Jeanette, and Leland Clark (Lee). Beth lives in New Mexico, Jeanette in Houston, Bill in Austin and Lee lives near Dallas. The kids grew up in Houston, but after they had flown the nest, Leland got a job in Taylor, and Jean and Leland moved here.
When they first came to the Taylor FUMC, they received a warm welcome, especially from Debi Tucker. "I like the friendliness and caring of Taylor FUMC. People really care," Jean reports. She loves Bible Study. "I look forward to Mondays," she says.
Jean played piano and organ for worship services at Taylor FUMC for 24 years, as well as many duets. Though it is difficult for her to choose a single favorite, she says "I Was There to Hear Your Borning Cry" is her favorite hymn because she loves the words to it. You can find it in The Faith We Sing, No. 2051, and the first verse goes:
"I was there to hear your borning cry,
I'll be there when you are old.
I rejoiced the day you were baptized,
to see your life unfold."

Jean started playing piano so young she doesn't even remember starting to play the piano. "We had a piano in our house," she says. "I took lessons in the first grade, but I didn't learn how to read music so my mother took me out of those lessons. In the third grade, I started again, and started learning how to read notes."
Jean played the oboe the high school band, but says she could never get a decent sound out of it. "I sounded like a snake charmer," she laughs. Piano was always her primary instrument and she accompanied choirs in high school and choirs and UIL solos.
Her friends describe her as musical, likeable, and ready to laugh. Even talking to Jean for a short time, you will notice she has that light-hearted spirit that leads to a ready laugh.
The most fun she's ever had was doing musical things. Her family is very musical although they all had their own teachers. "I have accompanied my children but I never taught them. I didn't want their musical practice to be compared with make your bed," she says.
While living in Houston, Jean accompanied a musical group called "The Classics". They sang Broadway-type music and sang for conventions and other events. They rehearsed at Jean's house, so her kids heard them practice. Once, Beth went to a performance, and said in surprise, "Mother, you're really good!"
Sometimes things happened in the performances that led to Jean being a stronger person. Once when accompanying The Classics, Jean performed on an upright piano. There was a vase on the piano that wobbled as she played. Her eyes had to share time between the music and the vase to keep track of it! "I had fear and dread that it would fall over on me during the performance," she laughs.
Another time, the performance piano was so out of tune that she had to look down at her fingers on the keys to make sure she was playing the right keys. The women sang in tune and the piano played out of tune. The group could do nothing but laugh about it.
"Most performances were okay, just sometimes things happened that we were not expecting," Jean says.
Among Jean's hidden talents are the quite diverse skills of dramatic reading and water skiing. When she was in high school, she gave a dramatic reading and went to state and got a 1. "That talent is pretty well hidden because I wouldn't be able to do that now," Jean grins. And her other talent is water skiing, although she hasn't done that for a while.
If she had the chance to travel she would like to go abroad. "I've never been to Europe and I would like to go to England and Italy. I would like to see where Shakespeare grew up in Stratford on Avon," she says.
We are so blessed to have Jean in our congregation. Give her a hug and your thanks for her many years of service the next time you see her!
Written by Robin McKinley