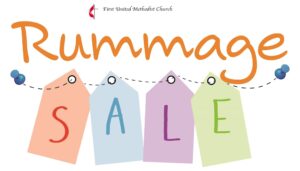 Church Yard
First United Methodist Church
907 West Lake Drive, Taylor, Texas 76574
Friday, August 7, 2020 – 5:00 p.m. – 7:00 p.m.
Saturday, August 8, 2020 – 7:00 a.m. to 1:00 p.m.
We will hold our annual summer church sale in the yard under the oak trees.
Needs:
Donations are welcomed. You may drop them off in the Fellowship Hall or contact Shirley for pickup.
Folding tables NEEDED, to be used to display sale items. Please drop them off by Thursday.
Volunteers are needed to help set up during the day on Friday.
Volunteers needed on Saturday to help with the sale, setup and cleanup.
For more information:
Contact the church office @ 512-352-2593 or
Shirley Ball @ 512-751-2178.