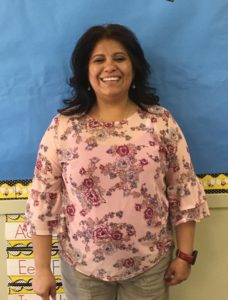 Mother's Day Out Teacher / Staff Spotlight
Lisa Valchar
This week we feature our beloved teacher of our two year old class, Lisa Valchar. Lisa and her awesome aide, Mrs. Cat, provide a joyful and fun classroom for their nine little friends. This is Lisa's third year teaching at FUMC and we are so blessed to have her on our team! Working with children has always been a joy for Lisa and she worked for five years at Austin Reg
ional Clinic as a pediatric Medical Assistant before joining FUMC. Lisa has lived in Taylor for the past 30 years and she and her husband, Kenny, have four children, ages 26 to 10 years old. Lisa also has two grandchildren: a nine year old grandson and a four month old granddaughter. Lisa is a member of Temple of Praise Church and loves sharing God's word with her class by teaching them to pray, share, forgive, help, and love each other like Jesus loves us! Thank you, Mrs. Lisa for all that you do for our two year olds! We love that God chose you to be our two year old teacher!
---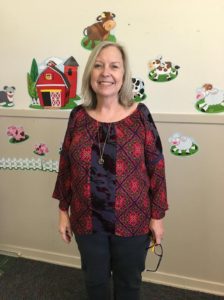 Mother's Day Out Teacher Spotlight
Teri Rhinehart
Our Teacher Spotlight for this week features our wonderful three year old teacher, Teri Rhinehart. Teri comes to F.U.M.C. with an outstanding 39 years experience as a third grade, Kindergarten, and pre-Kindergarten teacher. She has taught in West Virginia, St. Mary's in Taylor, and spent 28 of her teaching years at Hutto ISD. Teri and her late husband, Dave, have two children and three grandchildren. Along with working at our MDO program, Teri is also currently serving for her third year as the Children and Youth Ministry Director for the Taylor Community Bible Study program. We are so grateful to have Teri be a part of our Mother's Day Out program and we thank her for all of her hard work, creativity, incredible patience, and dedication with our three year old class!
---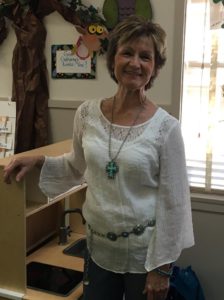 Teacher Spotlight
Debbie Grimm
For the next several weeks we would like to share a little with you about each of our wonderful teachers. This week we feature our awesome PreK teacher, Debbie Grimm. Debbie retired from teaching 2nd, 3rd,and 4th grade for Taylor ISD after 31 years. This is her sixth year teaching PreK here at FUMC. Debbie and her husband, Teddy, have three children and four grandchildren. Debbie serves as the organist and pianist at Taylor Brethren Church and dedicates much of her time every year to the Taylor Relay for Life team. Thank you, Debbie, for everything you do every week to prepare our PreK class for Kindergarten and to share God's love with us!
---